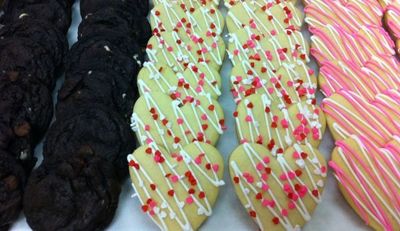 We love baking and we especially love baking for Valentines Day.  I mean what could be better than gazing into your sweetheart's eyes as she (or he) gazes upon a splendiferous selection of hand made treats?  And then she (or he) looks up at you and says something like "Wow, I had no idea you loved me so much you bought me an Orange Boot Box O'Love!  I'm overwhelmed!  We must be getting serious!"
And then, as if to prove her (or his) love for you (just you), she (or he) shares the box with you (and only you).  Win-win!
Every year Cindy tries to go beyond what she did last year and this Valentines is no exception.  She and Kim have been baking and testing for over a month, perfecting their recipes to add even more variety to our St. V's lineup.   This year we have:
Sugar Cookie Hearts: decorated with either a zigzag of royal icing smattered with heart shaped sprinkles, or zigzags of white and pink royal icing;
Black Forest Cookies: luscious fudgy chocolate cookies with chocolate chips, white chocolate chips and dried cherries;
Linzer Cookies: two delightful, crispy heart shaped hazelnut cookies sandwiched together with raspberry jam;
Sicilian Fig X Cookies: a sweet, light dough wrapped around a sumptuous filling of dried figs, toasted almonds, preserves, rum and chocolate - shaped into an X;
Lemon Jumble O Cookies: Nothing at all like our apple or pesto jumbles! In the world of cookies, a jumble is a rather old fashioned, crisp, slightly buttery sugar cookie rolled into a ring shape. A nice companion to our X cookie, the O is a light, crisp lemon cookie, dipped in lemon glaze;
Raspberry Rugelach: a cool little cream cheese pastry, filled with raspberry jam, chocolate, currants and almonds;
Chocolate Friand: friand means "small mouthful", and this is a small mouthful of chocolate heaven;
Classic Brownie: this is the recipe that Robyn always made for us at home, so we may have been a bit biased when we were taste testing brownie recipes, although the whole crew liked this one best. Here is our take on chocolate brownie bliss;
Chewy, Crunchy Blondie: meet brownie's cousin blondie, a chewy coconut-y bar packed full of chocolate chips and walnuts;
Raspberry Chocolate Muffins: a moist, airy muffin loaded with raspberries and dark chocolate chips. Brilliant with your favourite cup of joe;
Strawberry Swirl Cake: we LOVE this cake. It has a dense crumb, kind of pound cake-ish, but still light, with bursts of flavour from the strawberries and strawberry swirl….hmmmm, we think you just have to eat one to see what we mean!
We are adding more and more sweets to our a la carte lineup starting today, will have most everything by Saturday the 8th and will have absolutely everything available starting February 11th.
Just like last year, we are also making two different gift packs, available for pick up on February 13th and 14th:
The Orange Boot Box O' Love, a local tradition since 2011, is back again this year.  16 pieces in a lovely gift box for $30.  Available in a nut free edition if you like.
For those of you looking for something a little smaller, or who possibly have commitment issues,  we have the Orange Boot Bag O' Strong Attraction. 9 pieces bagged up all pretty for $15.  Also available nut free.
Gift boxes and bags are available by pre-order only.  We may have a very few bags available at the shop, but that's taking a big chance with your love life, isn't it?
[It's too later for Valentines orders.  Next year! but here's our regular order form]