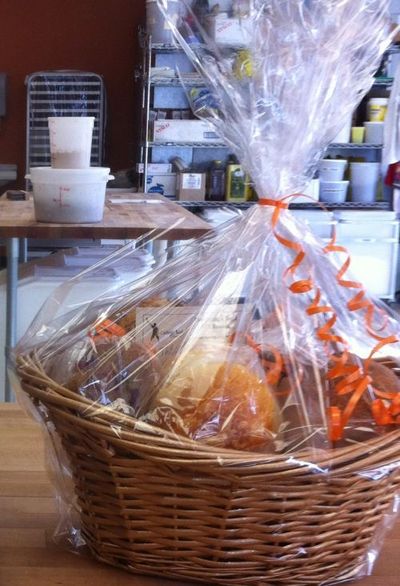 Update:  The baskets are sold out for this year.  The story is kind of nice though.
When Cindy and I started our family, one of the things I learned early on was there was no way I would ever be allowed to take Cindy to a Mother's Day brunch.  Cindy just plain refused to head off to a crowded, hot restaurant on 'her' day.  So for years now I would look for something interesting and unique when Mother's Day shopping.  And if her Mother's Day gift was somehow shareable, so much the better!
Now that we have Orange Boot Bakery, Cindy's paying special attention to Mother's Day. It's her chance to design a Mother's Day gift that she'd love to receive herself.  This year she's designed a Mother's Day Gift Basket that reflects the food she loves and the food she loves to share.
She wanted something we don't usually make at the bakery, so the basket would be truly special.
She wanted a combination of bread and sweets, because she likes both.
She wanted something with real fruit.   Something rich and decadent And something with a LOT of chocolate, because who doesn't love chocolate?
And she wanted a gift basket with lots of neat things inside, so it can be shared.  (yay!)
Each Orange Boot Mother's Day Gift Basket is $35, and contains:
One mini Potato Cheddar Chive Torpedo,  one of Cindy's favourite loaves;
Four Nicer Buns (*), extra buttery fancy white buns;
Four Hand Made Apple Turnovers, made from home made pastry and real apples;
Two Strawberry Whoopie Pies, using strawberries from this weekend's Strawberry Fair at St. Paul's Church;
Two Hazelnut Linzer Cookies, delightful crispy cookies filled with seedless raspberry jam;
Two Black Forest Cookies, two types of chocolate and amazing dried BC cherries.
You can order your baskets in person at the bakery, by calling us at (306) 584-2668 or by filling in the form below.
UPDATE:  The baskets are all sold out.  Sorry.
PICK UP DATE: Baskets are available for pickup on Saturday May 11 at 10AM.
(*) Now, you may ask yourself, why do we call them "Nicer Buns"?  Good question!  We had a lady call us a few months ago asking for some buns for a luncheon she was organizing.  But she didn't want ordinary buns -- she wanted "nicer buns."  So we said OK and proceeded to make a slightly richer white buns that we shaped in a knot and egg washed before baking.  The lady was delighted.  We've called them Nicer Bun ever since.  :)