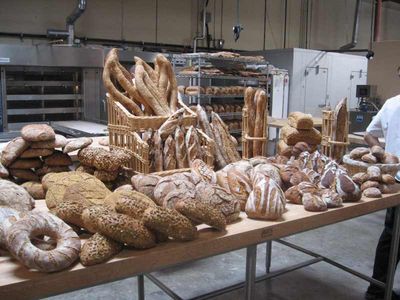 I'm back to the land of ice and snow and honestly, I'm very glad to be home. Three weeks is a long time to be away from my family and friends, even when I'm having the time of my life baking every day.
The Whole Grain and Specialty Flour course at the San Francisco Baking Institute was an excellent end to my adventure. If Artisan 1 was elementary school, and Artisan 2 was high school, then the Whole Grain course was bread university! We had a new instructor (Didier Rosada, a world renowned baker and teacher) and for the most part a new group of students as well. Many more professional bakers in this course so we dove straight into advanced mixing and shaping techniques. The teamwork was excellent so we got a lot done each day without getting all stressed out.
The photo represents all the bread we made during the week. From a simple Wheat Germ Baguette, to alternate grains like Corn Bread, Millet Bread and Spelt Bread, to interesting combinations like Buckwheat Pear Bread, Carrot Rolls and Roasted Pecan and Flax bread, to wild shapes like Sesame Flame and Crown of the Great Valley. My head was spinning with all the formulas, shapes and scoring patterns, but I took excellent notes and will be sharing these loaves with you over the coming weeks and months.
As much as I want to get back to baking in Regina, we're going to take one more week to stockpile some wood, get some supplies (including a bench that's at the correct working height) and slowly bring the oven up to temperature. It'll take some TLC to bring the oven out of its deep freeze without cracking the facade, but it can be done.
The next email out will be a 'baking this week' note, I promise!