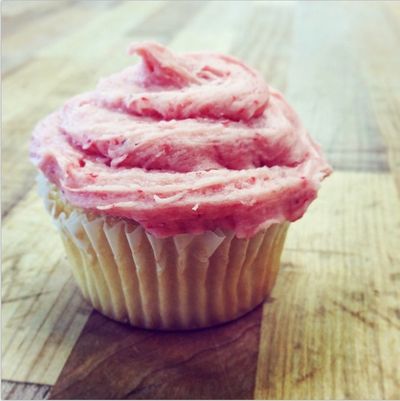 St. Paul's Church had their annual Strawberry Fair on May 30 and Ben was #3 in line to pick up three flats of beautiful fresh strawberries.  We're slicing, dicing, cooking and folding them into some special baking this week only (Tuesday June 2 - Saturday June 6) and are calling the entire affair Strawberry Week!
We'll have Strawberry Muffins all week long, featuring fresh strawberries of course;

Robyn and Jennifer are making up a bunch of Strawberry Rhubarb Turnoversthis week too. You can call them hand pies if you like.

Jennifer has also been working on a scrumptious Vanilla Cake recipe so we'll have special Vanilla cupcakes filled with strawberry curd and topped with a deliciousreal strawberry icing.

And Cindy promises me that on Friday we'll also be making Chocolate Cupcakes with strawberry filling and icing.
Cupcakes at Orange Boot??  I know!!   Well, we weren't going to make them until they were awesome, and these are awesome.  They're so good I don't really want to tell you about them so I can have more for myself. But Cindy has this "rule" about "guests" and stuff so I'm not allowed near the cupcake area.  Sigh...