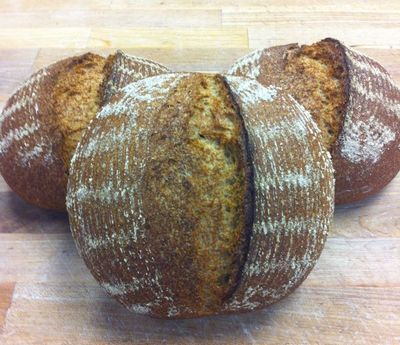 One loaf that has made a comeback lately is our 100% Whole Grain Spelt loaf. We had a lot of requests to bring this loaf back after we took it off the menu this summer.
We had become unhappy with the lack of volume we were getting from the spelt loaf.  Generally, you can expect a heartier loaf from 100% whole grains.  Spelt has a lot less protein than wheat, which also causes challenges in the volume department.  But after several weeks of thinking and testing,  Teisha, Sandy and I tweaked our process to make a slightly lighter loaf that we could be proud of.
The Spelt loaf is a whole grain loaf, made with whole grain Spelt flour and our Rye sourdough starter.  It has a lot more substance than our baguette for example, and a robust, hearty flavour. We like it a lot.
Our spelt loaf is baked on Wednesdays. We'll gladly put a few in the freezer for you if you want to pick up on a different day. Just give us a call at (306) 584-2668.